I want to buy a restaurant, where do I start?
The best place to start is with an expert restaurant broker. A leader like We Sell Restaurants can advise you in how to buy a restaurant, the steps in buying your business, financing your business and even the valuation of a restaurant for sale. We help buyers in leasing a restaurant and the entire restaurant buying process. Contact one of our expert restaurant brokers. They can assist you with the We Sell Restaurant Assessment Tool© to help you answer key questions before you begin. This important tool helps you shape your commitment of time and money before you get started. Our qualified Business Brokers can also work with you over the phone or in person to qualify your needs.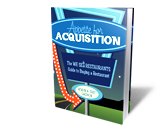 Want more information on how to buy a restaurant? Start by reading the industry textbook on buying restaurants, Appetite for Acquistion. This 352 page book is a guidebook on how to buy a restaurant and the steps in buying a restaurant. It has been described in the business as "the definitive guide for anyone looking to enter the restaurant industry." Appetite for Acquisition was Winner of the Best of 2012 Small Business Book Award. Available for shipment immediately from the publisher or as an instant download for your Reader, Nook, Kindle 2, iPad, and iPhone 4. Click this link to order immediately and satisfy your Appetite for Acquisition.


Steps in buying a restaurant
You've already taken the first step by finding a expert restaurant broker like We Sell Restaurants. We have the knowledge and expertise to help you in buying a restaurant. Call one of our restaurant brokers and prepare the materials below so you can meet with him or her in person to discuss the type of restaurant you want.
Prepare and bring your Financials
Many of our restaurant listings cannot be shared unless you qualify financially for both the purchase and the lease. If you plan on borrowing money, you will need a personal financial statement for the bank. You can find the form on our web site.
Review your Credit Score
Just as you wouldn't go shopping for a home without pulling a credit report; do an upfront review before buying a restaurant. Landlords are extending credit when you apply for a lease and they will pull your credit. Make sure you're in the best possible position to get the restaurant space you want.
Financing Your Restaurant Purchase
If you plan to borrow money or use investor's money for the purchase of your restaurant, secure this ahead of time and set up a corporation where funds are deposited. You don't want to shop for a business only to find that people you are counting on won't follow through at the final hour.
Sources of restaurant financing
There are a number of ways to finance your restaurant. Here are just a few examples.
Conventional Bank Loan or SBA Loan Restaurant Financing
Lenders typically require three years of P&L's and Tax Returns for restaurant loans. The process for an SBA loan is often lengthy (three to four months) and the business must be under contract in order to begin the process. This is not the way to go if you're buying a business without pristine books and records.
Home Equity Loan Restaurant Financing
Self finance your restaurant purchase through the equity in your home. Once you own the restaurant business you can often apply for a line of credit with the bank to pay yourself back or factor your credit card accounts receivable to generate a line of credit.
401K or Retirement Plan Restaurant Financing
There are tax free methods to use your 401K or retirement plan for the purchase of a business. We can put you in touch with lenders that specialize in this. Click on this link for information on converting your 401K to funds for your purchase.  
Friends and Family Restaurant Financing
Sell shares in your business to friends and family to raise capital for your purchase. Make sure you set up the correct paperwork and offer a fair return on their money.
Restaurant Buyers
Our restaurant buyers come from all walks of life. Some are retirees ready for a new adventure in life. Others are from corporate America and looking for a restaurant business of their own where they are in control. Some buyers have backgrounds or experience in the restaurant industry working for someone else. Some just have a dream about owning a restaurant and love the food industry.
We also have experienced owners looking to expand or introduce a new restaurant concept. Many Restaurant Managers or Chefs want control and freedom in their own business. Our buyers want unlimited opportunity and income levels that reflect their level of participation.
Leasing a Restaurant
Yes. We are familiar with the requirements of the landlords and can help you pull together the right package to position your concept for success.  This can include any or all of the following elements:
Restaurant Lease Application
Restaurant Business Plan and Pro Forma
Personal Financial Statement
Restaurant Experience Resume on Key Individuals
Complete the We Sell Restaurants Leasing Analysis Tool assist in your food service site location search.  The data allows us to quickly provide you with the perfect locations and analyze the first or second generation space in the marketplace for your concept.
Restaurant Brokers Fees
Expert restaurant brokers are typically compensated by either the restaurant seller or landlord thus there are generally no fees charged to the restaurant buyer.
Restaurant Buyer Help & Assistance
We Sell Restaurants has a total restaurant and food service database of resources to help in your business. We have relationships with the industry restaurant that can provide any services you need from licensing and training to construction and build out.  In addition, we negotiate training periods with our sellers to make sure you have the reins of the business clearly in hand before the transfer occurs.
Click on the links below to visit these restaurant resources and get started.
Restaurant Liquor License Facilitators
Restaurant Accounting and Legal Firms
Restaurant Business Plans - Consultation/Write/Present
Restaurant Food Suppliers
Using a Restaurant Broker Versus Searching On Your Own
Restaurant Valuation Skills
Using the services of qualified restaurant brokers helps you properly evaluate the Restaurant Business you are purchasing and its potential for growth. We Sell Restaurants prepares a Business Analysis Tool© on every cash flow positive listing. This copyrighted presentation packages restaurant financial statement alongside industry comparisons. Restaurant buyers can see at a glance what their earnings and opportunities are and how the restaurant compares to the industry in this nine-page listing package. 
Restaurant Knowledge of Market Conditions
We Sell Restaurants so we know the market. We know which restaurants and franchise re-sales are available. Our brokers are professionals, up to date on dining trends in the marketplace and current leasing rates. Our relationships and contacts in the communities allow us to know what restaurants are on the market, which restaurants are about to come on the market and which restaurant is available for re-sale.
Restaurant Experience 
Our only business is restaurants and we have seasoned veterans that know how to help you avoid the pitfalls that could be associated with purchasing a business.
Representation without Cost
 The services of restaurant brokers are almost always paid by the seller, not the buyer, so using a broker is just good business sense.  It is a rare business transaction that allows you to draw upon the expertise and knowledge of a professional without any cost to you.
Closing the Transaction
Connecting the buyer to the seller and reaching agreement on price is often the easiest part of the transaction. The follow-up work after the contract is written and getting it to the closing table requires knowledge, resources, hard work, and experience
Most Up to Date Restaurants For Sale
www.wesellrestaurants.com is the most sophisticated website in the nation for the purchase and sale of restaurants.  You can instantly sign the electronic confidentiality agreement online and get:  immediate access to the restaurant listing name and address, immediate view of additional photographs not available to the public, access to the latest restaurant listings on the market first and online tracking of your favorite restaurant for sale in your own account.
Confidentiality Agreements and Restaurants for Sale
We carefully protect the confidentiality of our restaurant clients, marketing their restaurants aggressively while safeguarding their business.  If employees or competitors learn of a listing for sale it could seriously affect the restaurant.  In order to learn the name of any restaurant offered, you must agree not to disclose this information to any other person.  We make this simple and convenient with our online confidentiality agreement.  
Buying a Franchise Restaurant Resale
We Sell Restaurants specializes in franchise re-sales.  We can serve as an independent consultant. We know which concepts are succeeding in the marketplace and which ones have sold (and their pricing). We provide unique value in negotiation either with the franchise or assisting in site locations and leasing.
Restaurants For Sale Outside of Georgia, Atlanta Metro, Florida and Colorado
There are many other states where we can assist you.  We can consult with you on restaurants for sale outside these areas and use our contacts in the industry to assist you almost anywhere nationwide.
Buyer's Agent and Co-Brokerage
We Sell Restaurants participates in "co-brokerage" we maintain valuable relations with other brokers for this reason.  We Sell Restaurants brokers can represent you as a buyer's agent whether or not we have the listing while the listing agent represents the seller.  When considering a search for a restaurant purchase, we not only search our listings but also the business MLS system (Bizmls).  That dramatically increases the pool of available restaurants for your purchase.  We welcome the participation of other brokers and work frequently on this basis. As always, you draw upon the expertise and knowledge of the We Sell Restaurants brokers without any cost to you.  
E-2 Visa Qualified Restaurants for sale
The E-2 visa allows foreigners who make substantial investments in the United States to relocate to the U.S. in order to develop and direct the business operation established by their investments. The E-2 visa may be suitable for those who wish to invest a significant sum of money in order to either purchase an existing business or set up a new business. Because of the complexities of investing in a U.S. business, it is highly advisable to seek competent legal advice on the types of investments that may qualify for an E-2 visa. We Sell Restaurants assists buyers that are seeking qualified E-2 visas and have many brokers on our team that are fluent in a variety of languages.  
Restaurant liquor license requirements
Click on the Links below to go to Colorado, Florida and Georgia Liquor License Information