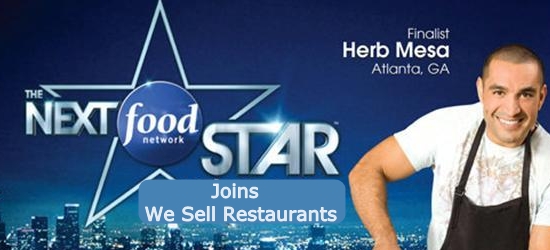 Atlanta fans have been asking "What's Next?" for Herb Mesa and the answer is in.  He's the latest member of the We Sell Restaurants team focused on all things foodie in the Atlanta market.  He will lead the Consulting Division and provide one on one consults for any of the following needs:
Kitchen Design or Redesign
Menu Development
Menu Nutritional Counts
Staff Motivation
Brand Design
Restaurant Launch
Restaurant Promotion
and more
Herb made it all the way to the final three where his fans embraced his food and his energy.  Eliminated in the final round, Herb is now Director of Consulting for We Sell Restaurants.  Herb is a restaurant-trained chef who worked his way up from dishwasher to director of catering and assistant general manager of luxury hotels. He has worked as a personal chef since 2003 and adds creative twists to recipes from friends and family. Herb, who works as a personal fitness trainer in his spare time, also attempts to nutritiously enhance any recipe he encounters.
Herb is a real live success story and an inspiration to anyone who struggles with achieving a healthy lifestyle.  He is a restaurant-trained chef, and a self-taught healthy cuisine chef, as well as a certified personal trainer and fitness guru.  Herb teaches that taking the time to learn his language of "balance through food and fitness', anyone can become their personal best.
As a first generation American of Cuban and Puerto Rican parents living in Elizabeth, New Jersey, Herb Mesa grew up on the flavors of the Caribbean.   But with these richly intense flavors also came saturated fat, calorie-rich food in large portions.  This, combined with a less than ideal focus on phycial activity, caused Herb to struggle with his weight for many years.
Starting his career in the restaurant industry as a dishwasher, Herb worked his way up to Chef and later, executive positions such as Director of Catering and Assistant General Manager at luxury hotels.  Managing mulit-million dollar budgets, menu planning and numerous staff, Herb excelled in every aspect of the culinary and hospitality industry.  As his professional success flourished, his weight rose and his energy level suffered.  He deced for his own health, and for the health of his family, he had to make a change. 
With help from his wife, Linda, and their two young daughters, Herb said 'good bye' to the hotel busienss, but not 'good bye' to food.  He became a certified personal trainer and nutruition and wellness consultant and worked at a local family gym.  He conquered food without sacrificing the flavors he loved by beginning a business for himself in 2003 called The Energy Chef, with which he taught individual clients, corporate groups and gym members how to make satisfying, nutritious dishes and incorporate exercise into their lives.
Herb has worked with the former Governer of Virginia (and current Senator) Mark Warner on his "Healthy Initiatives" campaign -- appearing with Warner at Virginia elementary schools and spreading the word of nutrition and fitness.  He has devloted countless hours to his daughter's schools, getting children inspired and involved in food and cooking while making better choices.  He has taught classes in professional kitchens on making healthy dishes; and he has inspired clients to live healthier lives and several to become personal trainers, themselves.
He now works as a personal chef and personal trainer in Atlanta, specializing in preparing innovative and creative meals using distinctive culinary ideas for health-conscious individuals and families; dinner parties and events for celebrity and high-profile clients, and one-on-one fitness and lifestyle coaching.  Most recently, Herb was featured as a finalist on the Food Network's premier reality cooking competition, The Next Food Food Network Star, where his excitement, enthusiasm and motivation for a healthy lifestyle shone more than ever.  Beating the odds and changing people's lives proves that Herb truly is a star.
Want to catch some of Herb's online videos?  Click this link to see his Pilot Show live on the air at The Food Network
.
Want to see the compilation video from The Food Network?  Click this link
Herb can be reached at herb@wesellrestaurants.com
You can also follow him on Facebook, Twitter or visit him online at herbmesa.com