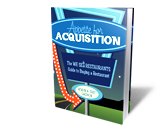 Start with the industry textbook on restaurant valuation and the food service sales process written by the team at We Sell Restaurants.  Appetite for Acquisition, has been described in the business as the "definitive guide for anyone looking to enter the restaurant industry." The first stop for anyone looking to buy a restaurant or franchise re-sale, it's available in bookstores nationwide, online from Amazon.com or via direct order from the Atlanta office
As the industry leader in selling restaurants and food related businesses, franchise re-sales, and site location for the food service industry, We Sell Restaurants has the experience and knowledge to assist you in every aspect of the purchase.
Step One – Assess Your Needs
We recommend you complete the We Sell Restaurants Restaurant Assessment Tool©.  Our diagnostic tool will help you understand which food service businesses fit your unique requirements.
Step Two – Assemble Your Team
Find a reputable business broker.  This is the most critical part of your restaurant search. Here are some questions you should ask of any restaurant broker you are considering:
How long have you been a restaurant broker?  
What was your business background before you began selling restaurants? Look for someone with a financial background like banking or accounting or holding a business degree or MBA.
Are you licensed? Not every state requires a valid real estate license to act as a business broker, and these are subject to change. Every state that requires licensure allows you to verify the status of a license online.
Do you have references or testimonials for restaurant buyers and sellers you've worked with in the past? We Sell Restaurants and most reputable brokers post these on their Web site.
Give me the name of three restaurant people you have worked with in the last year.
What is your educational background? It's not a requirement that someone have a formal education to sell businesses, but given the choice between someone with an MBA and someone that didn't complete trade school, which do you think will bring the most to the table in financial due diligence?  Please check the biographies of the We Sell Restaurant brokers for their education.
How many restaurant listings do you have now?
How many restaurants have you sold? That's a very different question.
Do you have prepared contracts for purchasing a business? The answer here should be yes, as you don't want to pay an attorney to develop a contract for your purchase.
What other resources do you have available to assist me in the purchase of a restaurant? Do you have contacts and resources for construction, insurance, liquor licenses, and all the other items that can surface after the sale?  See the list of We Sell Restaurant under the "buyer" tab on our web site.
Do you belong to any state organizations? Most states have strong organizations for both business brokerage and restaurants. A competent professional is probably a member of both. The business brokerage associations generally include an ethics component and experience or education requirements to join. For restaurant associations this is not the case as they accept for membership anyone paying the dues.  We Sell Restaurants is a member of the Georgia Association of Business Brokers and the Florida Business Brokers Association.
Do you belong to any national organizations? The IBBA, or International Business Brokers Association, is one of the largest in the industry. We Sell Restaurants is a member of the IBBA.
The team you need to buy a restaurant can also include your attorney, banker, equipment inspector, liquor license facilitator, CPA, business coach, and friends and family.
Step Three - Begin to look at listings
Begin to look at actual restaurants on the market based on your requirements.  For We Sell Restaurants, that means registering as a buyer on the nation's most sophisticated website and electronically signing confidentiality agreements to gain access to the locations, photographs and listing details.  For other broker's listings, it may mean faxing a form. Remember that We Sell Restaurants brokers can represent you for other broker's listings so before you send that form, contact one of our brokers for representation and expert advice (at no charge to you!).
Step Four – Find the Perfect Restaurant and Enter into Contract
We Sell Restaurants has all the forms and contracts to protect your interest in the transaction and allow for a due diligence period to make sure the restaurant meets your requirements.
Step five – You're Under Contract – Now What?
Getting an agreed upon price is the easy part.  We Sell Restaurants has an unmatched 90% rate of closing on contracts because we have the resources and knowledge to get the deal to the closing table. That may include any or all of the following:

Lease
We Sell Restaurants is familiar with the requirements of the landlords and can help you pull together the right package to position your negotiations for success. This can include the following:
Lease Application
Business Plan and Pro Forma
Personal Financial Statement
Resume on Key Individuals
Liquor License Transfer
Liquor license requirements vary by state. 
Georgia
Liquor licenses in the state of Georgia are non-transferrable. New owners must apply for a liquor license under their own name. There are firms known as liquor license facilitators that can assist in this process. In addition, attorneys familiar with Georgia liquor license laws can legally allow you to operate under the existing owner's license for a short period of time with a mechanism called a Management Agreement. This is part of the closing process and should be fully discussed and understood with your legal counsel before a closing takes place and any operation involving liquor, beer or wine service transfers. We Sell Restaurants has a list of liquor license facilitators to assist you in the transaction.
Florida
Liquor licenses in the state of Florida can transfer with the restaurant. In addition, licenses can be purchased.  There are multiple liquor license types in Florida including 2COP for Beer and Wine Service, SRX licenses for full liquor service that require certain seat and parking requirements of the restaurant and 4COP-3PS are for full liquor service and allow the operation of a package store but do not have seat and parking requirements for a restaurant. These are available for purchase separately from a restaurant.
Inspection Period
Buyers have a period of time under the contract to conduct due diligence on the transaction. This includes any books and records inspection, equipment inspection and lease review. The due diligence period is set as part of the contract terms. We encourage the Buyer to thoroughly check the equipment and premises including the exterior.  Should there be a defect, the contract allows for negotiation for satisfactory repairs prior to closing or withdrawal of offer. We Sell Restaurants can provide you with firms that conduct inspections and provide estimate of costs for repair. Buyers should also be aware of the lease terms to understand who is responsible for building repairs outside of furniture, fixtures and equipment to operate the business.
Financial Due Diligence
All financial due diligence should occur during the due diligence period. We Sell Restaurants will facilitate all requests for information you may require including, franchise documents, financial statements, sales tax receipts, point of sale print outs or more. Buyers should seek the guidance of a certified public accountant familiar with the restaurant industry in their due diligence.
Asset Sales
Restaurants listed as "asset sales" generally do not have books and records for review and are being sold on the basis of their asset value rather than on cash flowing being produced from these assets.
Permits and Licenses
All restaurants are transferred to the seller in compliance with all local licenses. The Buyer is responsible for verifying whether they need additional or revised permits and licenses to operate the business. You will be provided with a checklist of items that should be completed prior to the sale.
Representations and Warranties
The Seller represents and warrants certain things about the business you are purchasing which include: title, ownership and authority, organization standing and qualification, that taxes are current and liabilities and liens are satisfied and licenses are valid.  They also attest that no litigation is pending, equipment is in working condition, financial information is fair and accurate, no hazardous materials are present, employment matters are in compliance with federal and state law and no bankruptcy exists.  In addition they will warrant that certificates and permits of occupancy are valid, no other person has a pre-existing right to acquire, no pending proceedings that could affect ingress/egress exist and that zoning is legal and no condemnation is under way. Your attorney can guide you in understanding the representations and warranties. We Sell Restaurants can provide you with a list of attorneys familiar with restaurant transactions.
Loans and Financing
Conventional Bank Loan or SBA Loan to finance your restaurant purchase
Lenders typically require three years of P&L's and Tax Returns for restaurant loans. The process for an SBA loan is often lengthy (three to four months) and the business must be under contract in order to begin the process. We Sell Restaurants can tell you which restaurants have been pre-approved for SBA lending and then the buyer must also qualify. The lender is looking for: strong credit, 20% - 25% down payment and restaurant experience. The SBA lender will want to see the source of the cash you invest in the deal AND want to take a second mortgage on your home.
Home Equity Loan to finance your restaurant purchase
Self finance your restaurant purchase through the equity in your home. Once you own the restaurant business you can often apply for a line of credit with the bank to pay yourself back or factor your credit card accounts receivable to generate a line of credit.
401K or Retirement Plans to finance your restaurant purchase
There are tax free methods to use your 401K or retirement plan for the purchase of a business. We can put you in touch with lenders that specialize in this. Click on this link for information on converting your 401K to funds for your purchase.  
Borrow from Friends and Family to finance your restaurant purchase
Sell shares in your business to friends and family to raise capital for your purchase. Make sure you set up the correct paperwork and offer a fair return on their money.
Escrow
We Sell Restaurants has a firm policy of $10,000 in escrow submitted with the contract. This demonstrates the seriousness of your commitment to the Seller. Remember, to the seller, two things are important – time and money. How much he's getting and how quickly he's getting it. The strength of your contract increases with a higher escrow and quicker time to closing.